5 Evening Wear Styles That Make Your Body Types Look Great
Image Source: https://unsplash.com/photos/QY0qR938qL8
Evening soirees present the perfect opportunity for ladies to adorn an alluring look. Moreover, the fashion industry is not short on trends and dress styles to suit formal and semi-formal evening events. The styles range from floor-length gowns with plunging necklines to cocktail dresses and austere designs.
However, regardless of prevailing evening wear trends, fashion is never a one-size-fits-all affair because women have diverse body shapes. Moreover, each body shape is beautiful. Therefore, finding an evening-style dress that flatters your body shape and is appropriate for the event is vital. Below are tips for dressing every body shape for an evening soiree.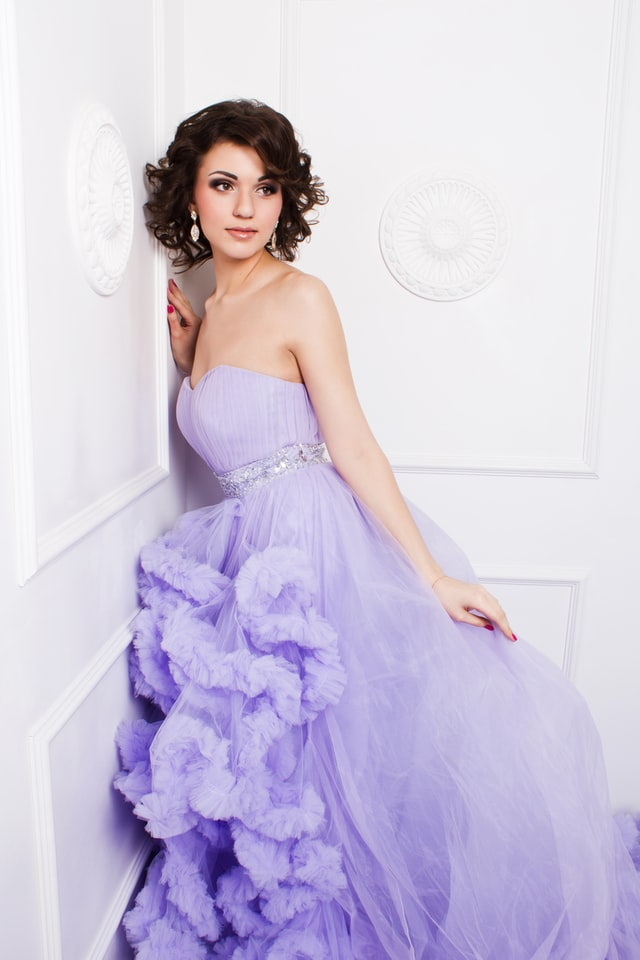 Image Source: https://unsplash.com/photos/d00FZ5Yfhxc
The History Of Evening Wear
According to one historical account, evening wear became integrated into society during the European age of romanticism. Significant characteristics defining the romanticism era included emotion and individualism, and the day's fashion embodied these elements.
Second, the era experienced a thriving textile industry that developed colorful, dainty eveningwear fabrics. Consequently, evening dresses featured voluminous fabrics, embellishments, and pops of color.
Evening dresses differed from daytime or everyday wear, as they featured delicate fabrics like lace. Moreover, the era's focus on emotion and individualism meant exaggerated silhouettes, plunging necklines, more exposed skin, and embellishments. The evening dresses signify wealth among aristocrats attending sports like balls and theatrical performances.
While evening dress styles differ significantly from the umpire waistlines and goth-inspired outfits of the romantic era, the plunging necklines and exposed skin remain. Also, while the focus on the silhouette remains in evening wear designs, designers no longer focus on a single silhouette as it was in the romanticism era.
The fashion industry is gradually embracing diverse female body types to create sexy yet comfortable and flattering evening dresses for women. Female body type classifications today include the pear shape, apple shape, hourglass body, triangle body type, inverted triangle, and more. Such body type characterizations stem from different body structures like waist definition, burst measurement, muscle distribution, shoulder blades, upper body, and hip bones.
Evening events today include galas, charity balls, award ceremonies, evening weddings, pageants, and corporate events. The diverse events mean that besides being flattering, evening dressed must also be appropriate for particular events. Therefore, keep reading for pointers on dressing for various evening events.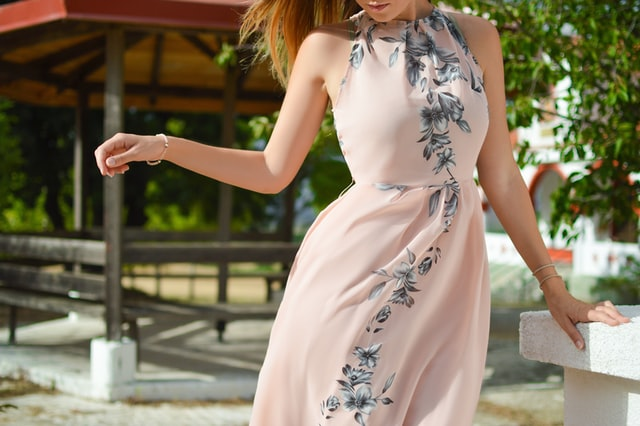 Image Source: https://unsplash.com/photos/0C2qrwkR1dI
Considerations When Choosing An Evening Dress For The Female Body
Body Shape
As stated above, women worldwide feature diverse upper and lower body features resulting in different body types. However, no body type is better than the other; each body type is beautifully unique.
Nonetheless, each body type has strengths or flattering features you can lean into while dressing up for a more attractive figure. The body shape is arguably the most crucial consideration when dressing for an evening. Therefore, you can learn more about the flattering features of each body shape and how to dress your body shape later on.
Event Type
Evening parties are typically formal or semi-formal events, but they are not cookie-cutter functions; you can wear a similar dress style to all of them. Therefore, ensure you understand the nature of the event, regardless of whether the host issues a dress-up theme.
For instance, spaghetti straps and sweetheart necklines may seem inappropriate for a corporate dinner. On the other hand, full skirt dresses accentuate your best features while maintaining the modesty expected at an evening work function.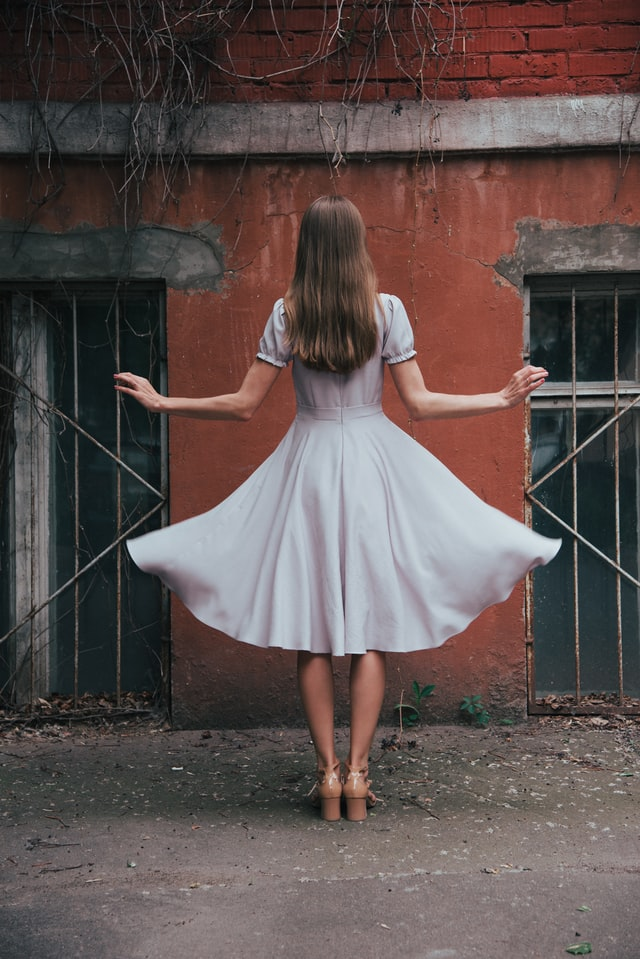 Image Source: https://unsplash.com/photos/VOO5ojMQ_9A
Fabric
The fabric used in making an evening dress can be the difference between a flattering evening look and a hot mess. Different fabrics have unique silhouette draping capacities and body-conscious fits that appear additional on diverse body shapes.
Typical evening dress fabrics are delicate and dreamy with a sultry flow and include silk, satin, chiffon, organza, lace, and georgette. They are comfortable but deliver the sex appeal expected of an evening dress or gown. However, somebody shapes work better with stiff fabrics.
Color and Print
Color is another vital consideration when choosing an evening attire. According to one study, color is a primary external factor influencing female body perception of visual aesthetics and appearance.
The research model used above was an eye-tracking study in which a mixed-gender audience viewed female body avatars in different color dresses and skin tones. Study participants were to rate the avatars' body attractiveness according to individual perceptions. At the end of the study, it emerged that the female aviators in black and red color dresses registered the highest body attractiveness and slimmer body ratings.
Therefore dress color influences how cinched a woman appears in the dress. Moreover, a dress color that complements your natural undertone makes you appear more attractive due to color juxtaposition. Fabric prints function similarly to fabric color on a dress, meaning the juxtaposition principle applies equally to dress prints and patterns.
Body Size
Your body size is as important as your body shape because ill-fitting clothes are grossly unflattering. Therefore, consider choosing evening gowns and dresses closest to your size besides body type.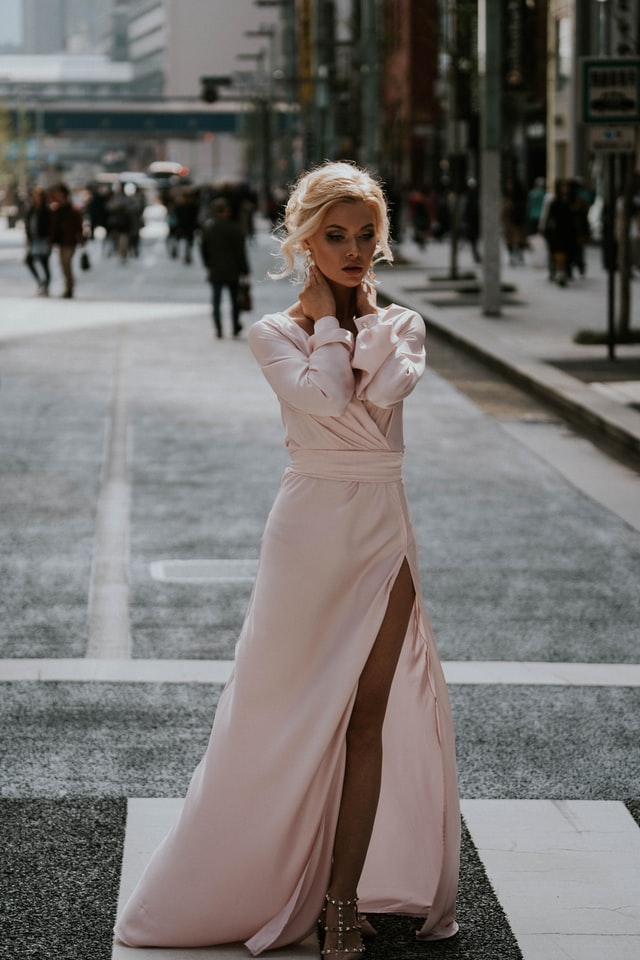 Image Source: https://unsplash.com/photos/zWO2t0Yrmao
The Ultimate Evening Dress Guide For Different Body Types
Whether petite, full-figured, or somewhere in between, you can apply simple principles to create your style for a flattering evening look. However, learning and understanding your body type is vital to creating your style. Therefore, below is an overview of each body type, including five recommended dress styles.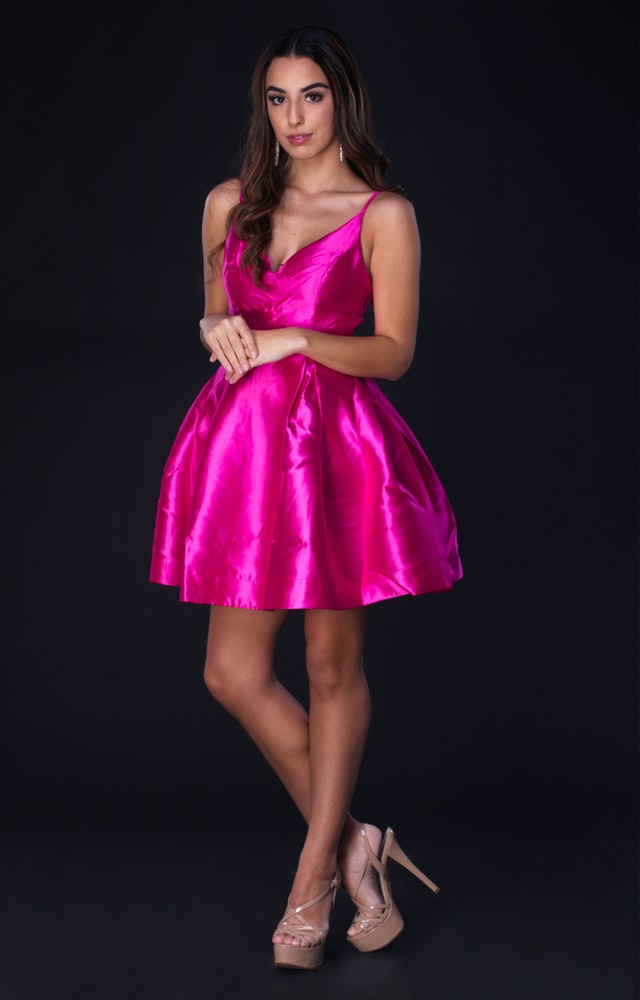 Image Source: https://unsplash.com/photos/sTrDy5UU-XA
The Apple/Round Shape
Physical Characteristics
The apple body shape is among the most common body shapes within the female demographic. Women with apple body type have a body structure featuring an entire midsection or no well-defined waist, a broad shoulder line, and a bigger bust that makes them appear top-heavy. However, they feature narrow hips, a flat butt, and slender legs on the lower half.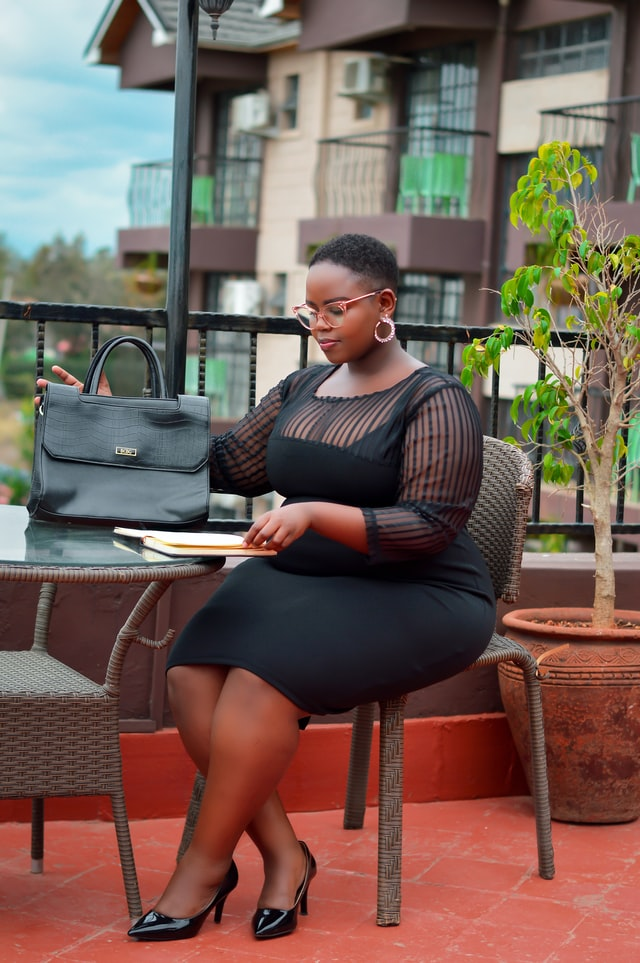 Image Source: https://unsplash.com/photos/vDxvAmuNDK8
Style Suggestions
The trick to dressing an apple-shaped body is balancing the upper half with the lower half by creating an illusion of a waistline. Below are practical examples of dresses that flatter an apple body shape for an evening out.
Belted styles like a wrap dress are ideal for creating an illusion of a waistline.  

An A-Line dress like a skater or a wrap dress has a flattering flare for the A-line silhouette.

Bias-cut dresses also flatter the waistline.

Empire waist dresses raise the waistline to accentuate the bust and create a dramatic effect while concealing the heavy midsection.

Off-the-shoulder styles like halter necks draw attention to bare skin and away from the full midsection.
The Pear Shape/ Triangle Frame
Physical Characteristics
The pear-shaped body is a desirable silhouette featuring a well-defined waistline, a small bust, and narrow shoulders on the top half or upper body. In contrast, the pear body shape features wide hip bones and thighs. Pear-shaped women are closer to the hourglass figure because of their defined waistlines.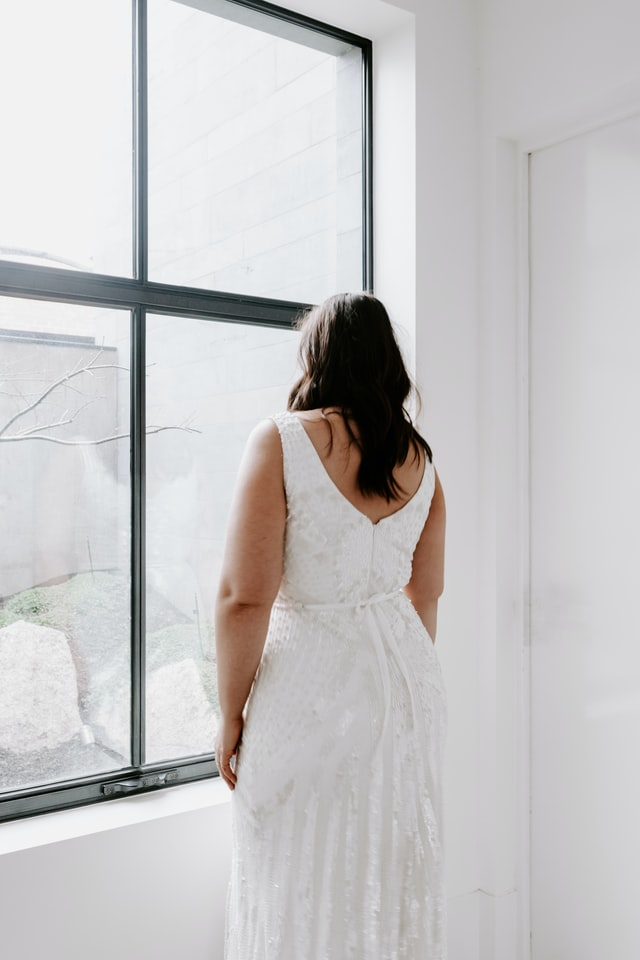 Image Source: https://unsplash.com/photos/W6Q9GMm26Fo
Style Suggestions
A pear-shaped body is versatile, meaning you can dress to accentuate your curves or add volume to the top half body for a balanced hourglass shape. For starters, wearing a push-up bra allows you to balance your top and bottom half.
Second, dark-colored pencil skirts can also help accentuate your curves while making them look slimmer. Below are more evening dress options for the pear-shaped body type.
A full skirt dress flatters the waistline without clinging to the hips and is the best dress for wide waist.

Wrap dresses and other A-line skirts drape the hips and button without caressing them.

A narrow pleat skirt accentuates the waistline while elongating the pear shape body.

A fitting midi pencil skirt accentuates curves while elongating your frame

A dress with a waist belt design can draw attention to the well-defined waistline.
Rectangle Body Shape
Physical Characteristics
Also called the straight, ruler, or athletic body shape, the rectangle body, tops common body shapes as the most prevalent female physique. It features equal shoulder, waist, hips, and bust measurements.
The upper and lower body are equal, and there is no defined waist. However, the rectangle body shape features even muscle distribution and great legs ideal for skinny jeans.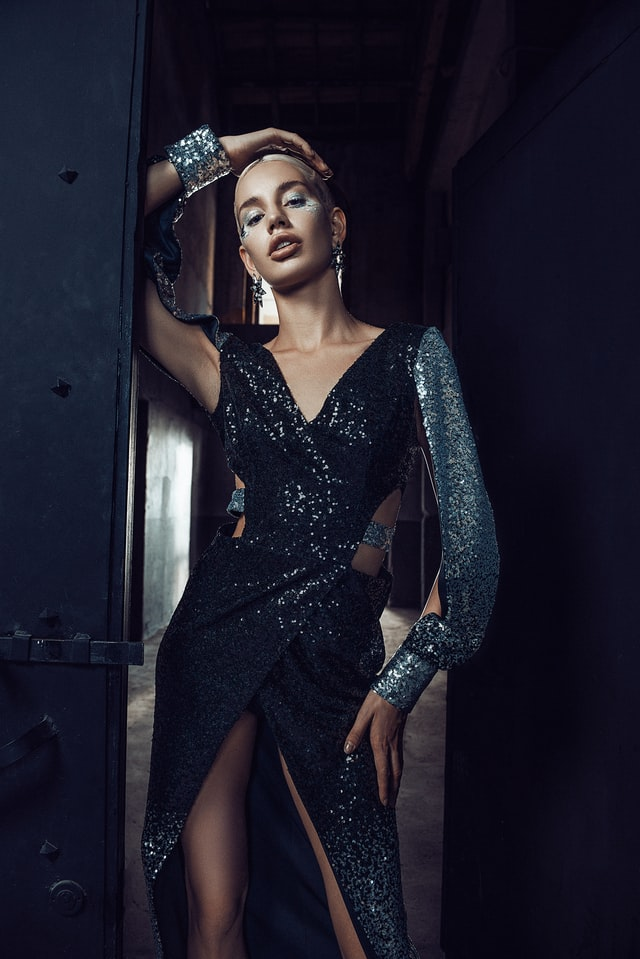 Image Source: https://unsplash.com/photos/Z_nCYyud2yM
Style Suggestions
Skinny jeans do not qualify as appropriate evening wear, but you can flatter the rectangle body shape in the following dress types.
V necklines like halter necks elongate the shoulders and accentuate the collar bone.

Belted waist dresses and A-line silhouette wrap dresses give the illusion of a defined waist.

Fit-and-flare dresses define the waist, take attention away from the hips and add elegance to your gait.

Puffed sleeve dresses draw attention away from the hips

Structured dresses for poise
4. Hourglass Body Shape
Physical Characteristics
The hourglass-shaped body features a beautifully defined waist and a balanced upper and lower body. Women with hourglass figures have gently rounded shoulders and hips that curve gently from the waist.
Therefore, shoulders, bust, and hip measurements are equal in hourglass shapes. Hourglass shapes also feature full hips, thighs, and a well-rounded bottom. Although the hourglass figure is highly desirable, it is also the rarest of all common body shapes.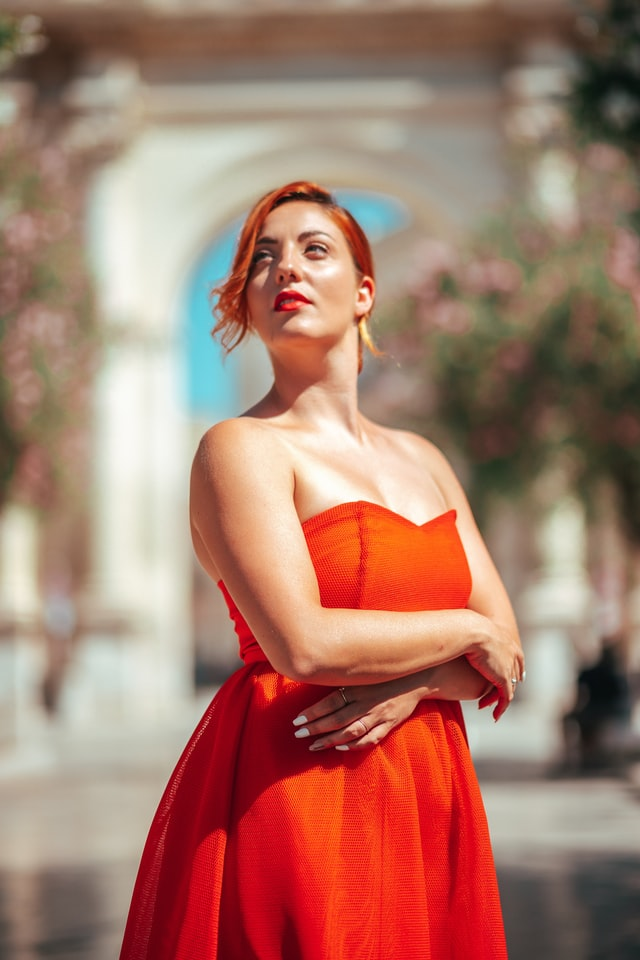 Image Source: https://unsplash.com/photos/VUgfo7PKuCo
Style Suggestions
The hourglass-shaped body is versatile and easy to dress. However, the evening dress suggestions below are most flattering on hourglass figures.
Fit-and-flare dresses show off the natural hourglass figure

Belted dresses like A-line wrap dresses draw attention to the petit waist without adding volume to the bust

Mermaid evening gowns accentuate the hourglass curves and waist

Peplum dresses feature a sheath that enhances the defined waist

Sheath dresses feature ruching along the waistline to highlight the petite waist.
5. Inverted Triangle Body Shape
Physical Characteristics
Also called the classic swimmer physique, the inverted triangle body shape is heavy on the upper half. It features broad shoulders and a wide rib cage that tapers into narrow hips. The inverted triangle also features little to no waist definition.
Like the hourglass figure, the inverted triangle body shape is among the less common as only 5% of the population bear this physique.
Style Suggestions
The primary hack in dressing the inverted triangle silhouette draws attention away from the upper half to balance the upper and lower body. Below are ideal evening dress styles for the inverted triangle figure.
A peplum dress accentuates the inverted triangle frame in an hourglass-like manner.

Evening dresses featuring halter necks show off the well-toned shoulders on the inverted triangle while elongating the neck.

Fit-and-flare dresses add volume to the hips. Moreover, fit-and-flare dresses featuring dark colors on the upper half shift attention away from the broad shoulders for a more balanced look. Therefore, they are among the best dresses for busty body types.

Wrap dresses help define the inverted triangle waistline.

Tulip skirts or bias cuts add visual volume to the hip area, making them an ideal dress style for body shape inverted triangles.

 
Image Source: https://unsplash.com/photos/Q_a_6kTFZyg
How To Know Your Body Shape and Dress For Your Body
According to one literature review, the body shape concept borrows from the three somatypes theory. The theory posits that individuals fall into three inherited skeletal types that influence their physical appearance. Therefore skeletal types influence your build, and factors like physical exercise and diet do not affect the skeletal structure.
The three somatypes theory concludes that your bone structure, not your body weight, age, or ethnicity, determines your body shape. Consequently, knowing your body shape helps you accentuate your body's best features while dressing up and feel comfortable and sexy in your skin because body type and dress style go hand-in-hand.
Therefore, below is a simple guide to help you assess your body, determine your body shape, and learn how to dress different body types. The only tools you will need during this simple exercise are a measuring tape and a full-length mirror.
Take the measuring tape and measure your bust before taking waist and hip measurements. You can also take shoulder measurements if you deem it necessary.
The measurements are more accurate when you measure yourself with minimal clothing layers. Second, ensure the measuring tape is snug across your body but not tight.
Also, you can stand in front of a mirror to ensure you place the measuring tape correctly. For instance, the measuring tape should pass your belly button while taking waist measurements. Second, bust measurements should be along the fullest part of your chest area.
Record the body measurements for your bust, waist, and hips and compare them to determine your body's most comprehensive and narrowest segments. Compare your body measurements to the body shapes explained above to determine where you fit and which parts to accentuate your silhouette.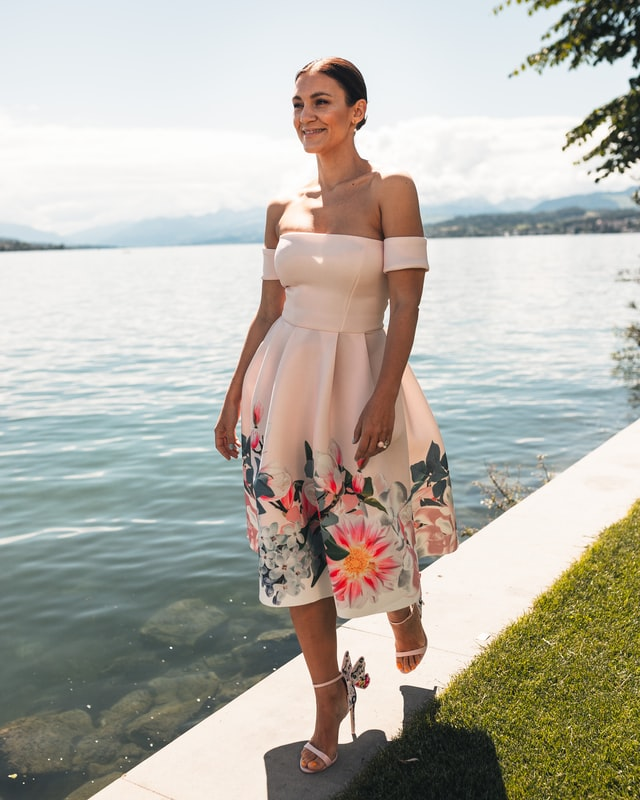 Image Source: https://unsplash.com/photos/0jAUE6QNYf8
Conclusion:
Visual appeal is a significant evening gathering element regardless of the gathering's formality level. Therefore, you must dress up to create visual appeal while adhering to the dress code.
However, looking fabulous at an evening soiree does not necessarily mean sacrificing comfort. The only way to balance comfort and glamor is to understand your body shape and wear evening dresses that accentuate its most attractive features. Thanks to the guide above, choosing a show-stopping evening dress will be a no-brainer, and you can look your best at every event.
Resources:
https://fashionhistory.fitnyc.edu/1820-1829/
https://pubmed.ncbi.nlm.nih.gov/34029989/
https://www.uh.edu/fitness/comm_educators/3_somatotypesNEW.htm
---